Help us raise money for ACT by purchasing notecards, posters or T-Shirts  These artists were selected by the Arts for ACT Steering Committee.  Arts for ACT is an annual fundraising event for ACT.  Notecards, Posters and T-Shirts were created utilizing images of the works of art that were donated by artists and auctioned at ACT's annual fundraising event .
Notecards, Posters, and T-Shirts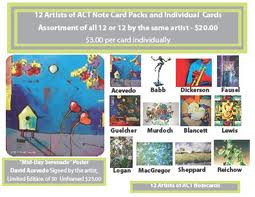 If you are interested in purchasing one or more, please feel free to email act@actabuse.com or call us at 239-939-2553.