Help us raise money for ACT by purchasing notecards by the "12 Artists of ACT"  These artists were selected by the Arts for ACT Steering Committee.  Notecards were created utilizing images of their works of art that were auctioned at ACT's annual fundraising event "Arts for ACT Fine Art Auction" which was held in August 2011.
Notecards and Poster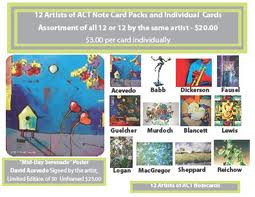 If you are interested in purchasing one or more, please feel free to email act@actabuse.com or call us at 239-939-2553.