Community Education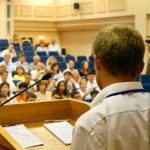 The purpose of ACT's Community Education and Relations Department is to increase community awareness on issues of domestic violence, sexual assault and human trafficking through various forms of education. The goal is to reach more victims, increase community support for the victims and ACT, and to reduce the incidences of these crimes.  This is accomplished through the use of the media both broadcast and print, a wide variety of public speaking engagements, in-service training, professional seminars, classroom teaching and community health fairs.
The Community Education department also organizes, coordinates, and implements the educational curricula that are provided to the community. By examples, training, and education is provided to:
health care providers,
schools, colleges and universities,
service providers,
law enforcement,
justice system,
churches,
mental health centers,
clubs, organizations and news media
Additionally, ACT's Community Education department is currently able to provide comprehensive training on the following subjects:
human trafficking,
teen dating violence,
date rape drugs,
date rape,
family violence
bullying for middle and high school students and for school counselors, teachers and administrators, as well as educational assemblies for students
For a detailed print out of our Community Education offerings, please click here.